Best of Boston Launches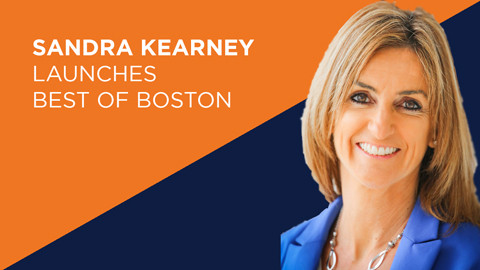 Houston, Texas (April 2, 2021) Network In Action (NIA) is a national franchise comprised of over 70 groups across the country that creates marketplace alliances via membership in these elite groups, featuring a qualified business advisor and leadership business coach, to directly manage business owners for mutual benefit. The model is unique to the industry based on its proprietary technology, structured once-a-month gatherings, and active point system referral platform.
NIA expanded the franchise in the Greater Boston area in January 2021, with Sandra Kearney of Westborough, MA launching the Best of Boston-Network In Action group in the MetroWest area. Sandra will continue to scale her NIA franchise throughout the area with the launch of groups in Worcester and Cityside.
The three groups will each be comprised of 25+ local business owners who understand the value of building relationships to help each other succeed. Sandra Kearney, NIA-Franchise Owner, shared that she is looking to bring together people that understand the fact that networking is not about clients, it's about connections and relationships.
As a seasoned business owner and connector, Sandra realized the need in her community for a group that focuses on making connections now more than ever, due to the havoc the pandemic has wreaked on so many business owners. We hope to build something really special in the community where we all support each other and come together to stimulate our economy. We also hope to create a regional charity initiative to support those in need in the summer months, shared Sandra Kearney. When interviewed about why she chose Network In Action to support her goals for her community, she stated It is a very unique concept that brings so much value through technology and the ability to meet people nationally. The franchise training and ongoing support is second to none.
Taking a modern approach to networking, NIAs revolutionary internal website and smartphone app allow members to pass and track referrals with ease, start discussions with other members, post status updates, and more. The app helps to streamline the referral process for NIA members by giving them the ability to connect in real time. It is also the only networking organization offering a guaranteed return on investment (ROI) through a simple calculation method based on a member's commitment to attending monthly meetings and passing referrals.
At Network In Action, everything we do is centered around bringing value to our members, with Sandra's experience as a small business owner and ability to see opportunity even during times of challenge, the leadership and guidance she will bring to her groups will be invaluable, Scott Talley, Founder of Network In Action commented.
NIA Best of Boston will be holding its launch meeting in April 2021 in Worcester and in July 2021 in Cityside, to learn more, contact Sandra Kearney at This email address is being protected from spambots. You need JavaScript enabled to view it..
For more information on Network In Action or any of the NIA Best of Boston groups and how you can become a member please visit https://www.networkinaction.com/ and www.networkinaction.com/index.php/find-a-group.
###
Sandra Kearney

Sandra Kearney is a seasoned sales and management professional with small business owner experience in a variety of industries. Her early career was based in the service/hospitality industry, including Marriott International and Brinker International (Chilis), where she received world-class training and gained valuable skills, experience, and knowledge of business processes and effectiveness. Sandy was always promoted quickly to higher responsibilities, working in leadership positions in the areas of Marketing, Management, Employee Relations, and Customer Service.
She earned her Personal Training Certification in 2006 and discovered her ultimate passion in helping people achieve greater results physically, mentally, and in every area of life. Sandy purchased New Life Health and Wellness, a fitness center, in 2008. Prior to the purchase, the fitness center was doing poorly with only 88 members. She applied her sales, marketing, and process improvement skills and doubled the membership each year, growing quickly to over 500 members. Sandy also added staff, independent contractors, several services, and new programs, resulting in additional revenue gains. She completed her goal in 2015 by selling the business at a healthy profit.
Sandy has spent the last 5 years in the Learning and Development space. She launched her own firm, Human Power Solutions in December 2019. It has been an immediate success due to her network and focuses on client experience. Sandy's ability to network, serve others, and to connect people is a large part of her success. Covid-19 has brought some new challenges but also exciting opportunities in the networking world.
Sandy earned her Masters in Organizational Leadership from Nichols College in 2018 and has a BS in Chemistry from Assumption University. She lives in Westborough, MA, is the mother of three kids, two grandchildren, and has five siblings.
Stay Informed
When you subscribe to the blog, we will send you an e-mail when there are new updates on the site so you wouldn't miss them.